Destination Wedding Planning Guide
As trends suggest, more and more couples are now choosing Destination Weddings over traditional weddings for their special day. With our help, and a little planning, your dream wedding will be a breeze. We've got the inside scoop you need to plan your perfect day just the way you want.
So Let's sit down together and take a look at some of the big decisions you will want to consider.
Ready to get started?
Start planning your destination wedding today! Call
1-866-875-4565
to speak with a destination wedding specialist or
submit your request online
.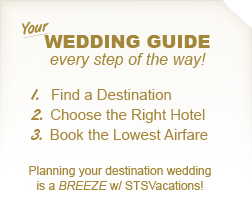 Request More Info
Getting Started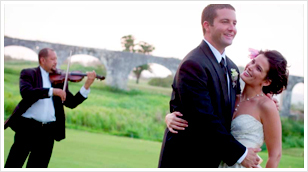 Start Planning Early.
So you've decided to do a Destination Wedding. You're probably wondering, "Where do I even start?". First things first, take a moment and remind yourself of your dream wedding. Is there a place you've always wanted to go?
Start researching and planning your wedding as soon as possible. Do an Internet search on the destination you are considering for your special day. Talk to your travel consultant to find out about different options. Get information such as how far the hotel is from the airport, time of the year (think about hurricane season) and what is included at the resort.
Next, choose your wedding date. If you are looking to save money, you may not want to travel during the holidays or peak travel seasons.
When deciding on your destination, consider where your guests are traveling from and what your wedding party's budget is. You may want to travel somewhere easily accessible by your guests for example: Caribbean resorts are easier to get to for east coast and midwest guests. The west coast of Mexico is more accessible to midwest and west coast, while the Riviera Maya is the most accessible to the entire USA.
Destination Weddings take time to plan and research. By following our guidelines, this will give you and your guests will have plenty of time to reserve the perfect property. Above all , remember that this is your special day. Make sure to choose the location that is right for you.
Your Wedding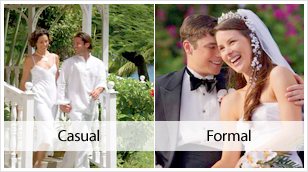 Just as choosing your destination is important, it is also important to decide what type of wedding you want. Are you looking for a: Casual or formal wedding? (Do you want to get married on the beach in a white summer dress or would you prefer a black tie wedding or maybe something in the middle?)
Do you want a large group to join in on your special day or a small intimate group? Are you going to have adults only or are children invited?
These are questions that may affect where you decide to have your wedding. Once you have answered some of these questions, you can then move on to the next step.
Choosing Your Site
It's Time to Select a Hotel.
After determining your destination and the type of wedding you want, it is time to select a hotel capable of managing your special event. One of the great benefits of having a wedding at a resort is there is "no stress" to the bride and groom when it comes to setting-up for their wedding or reception. The hotel will take care of all the planning and organizing.
When deciding on which type of resort you would like, there are a few things you should know about all-inclusive resorts as opposed to European plan resorts. All-inclusive Resorts: Include all food and drinks. In many cases, the reception and other events can be held with little or no additional cost. Your guests will have the freedom to socialize without wondering who is paying the tab. EP (European Plan) Resorts: only include the room and everything else is on a "pay as you go" basis.This may provide a lower up front cost to your guests.
There are some all-inclusive resorts that are for couples only and no children are allowed. So if you are planning on having children attend your wedding, you may want to consider this before choosing your resort.
Customized Packages
STS Vacations will put together your entire package and customize it so that you will have the perfect day. Your guests can save money by purchasing air, hotel, and round trip airport transfers together in a package. STS Vacations can secure blocked space with the airlines (this normally requires a deposit that will be refunded). You will have an STSVacations travel wedding consultant to assist you with your Destination Wedding.
Finishing Touches
Design a Trip Itinerary and Trip Options
It is a good idea to make a trip itinerary to send to your guests. This should include the date of arrival, planned side trips, spa services and information about the wedding, reception, and any other planned activities.
Why is a Destination Wedding the Right Choice?
Less Stressful
Hotels and resorts have worked extremely hard to make planning a destination wedding more and more appealing. Most have on-site wedding coordinators available who are familiar with specific marriage requirements and offer complete wedding packages including: reception space, wedding cake, wedding photographer, minister and more!.
---
Cost Effective
The affordability of a destination wedding has been attracting couples to go the non-traditional route. An average wedding cost, based on 150 guests, starts at $20,000 and can easily increase to $120,000. Not to mention the few thousand dollars it will cost for your honeymoon. On the other hand, you can fly to the Caribbean, be married in a beautiful, all-inclusive resort, and stay in a luxury room for a week for a few thousand dollars and still have money to spare.
---
Reunion Opportunity
If you are like the average person, you probably don't have the chance to have a fun and relaxing time with your family and friends very often. At a typical wedding, the bride and groom are consistently "on the go" spending all of their time meeting and greeting their guests. A Destination Wedding gives you the opportunity to enjoy your wedding with family and friends while spending time together on vacation.
---
Unique Wedding with a Lifetime of Memories
Instead of having a Caribbean themed wedding, you could actually be in the Caribbean and incorporate cultural traditions into your special day. Imagine getting married and having beautiful pictures in a lush garden with water falls or being on a white sandy beach with a gorgeous sunset in the background. A Destination Wedding is a great way to make memories that will last for a lifetime.