Destination Wedding Marriage Requirements
Destination weddings are a growing trend!
We've taken the liberty of gathering up all the important information you'll need to insure your dream wedding goes off without a technical hitch. Pay close attention to the specifics for each destination as they change from location to location and don't leave room for interpretation. Please take a look below:
Start planning your destination wedding today! Call 1-866-875-4565 to speak with a destination wedding specialist or submit your request online.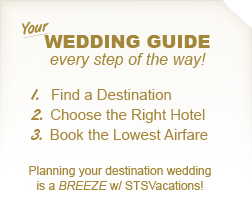 Request More Info
Anguilla
In Anguilla, couples marry under the authority of a special license that takes approximately two working days to process.
Both parties must present proof of citizenship of their resident country. These documents are the same documents that you will need to fulfill your entry requirements when visiting Anguilla; your passport or an original birth certificate accompanied by a photo identification such as a driver's license.
Two witnesses are required. If applicable, a divorce or death certificate must be present.
If one partner resides in Anguilla for at least fifteen days before the date of marriage, the cost of the license is US$40. If the stay is shorter, then the cost of the license is $284 (representing stamp duty).
Antigua
Most resorts require that you be there at least one working day before you married.
You both will need valid passports as proof of citizenship.
If either of you have been previously married, then bring along the original divorce decree or, in the case of a widow or widower, the original marriage and death certificates.
Both parties must be over 15, if under 18, written authorization from your parents or guardians is required. It is important that all documents presented are original or certified original by the issuing departments or offices. Ensure that all documents are in your legal name, and provide affidavits in cases where you are known by another name. Your marriage must also be solemnized or celebrated in the presence of two or more witnesses, apart from the Marriage Officer.
Getting married in the church requires the permission from the church authorities where you wish to be married. Have your pastor contact the church to establish the requirements. Some churches ask that the couple attend pre-nuptial consultations. Allow some extra time if planning a church ceremony.
Aruba
Civil marriages are now possible in Aruba, but they must take place at the Civil Town House. Couples may also arrange a religious blessing after they have been legally married or just hold a romantic celebration beachside if they prefer.
All Civil/Legal Ceremonies must take place in the Civil Town House
Copies of birth certificate for bride and groom with apostille (state certification).
Passport picture page or valid state issued picture I.D. for Bride & Groom.
Witness (18 years up) passport picture page or valid state issued picture I.D. (minimum 2 witnesses). Witnesses can provided locally if bride and groom are traveling alone at $50 each by a weddingplanner.
Certificate of no impediment for bride and groom (also referred to as a "single status report" and in some states called a "negative statement of marriage"). This certificate of no impediment is obtained at the bureau of vital statistics which is located in the department of health.
If either party has been divorced, a copy of the 1st and last page of the divorce decree(s) is needed.
If either party is a widow(er), a copy of the pertaining death certificate is needed.
All documents are to be faxed for review and then submitted by courier (i.e. FedEx) at least one (1) month prior to desired wedding date.
Barbados
It is very easy to get married in Barbados, as there is no required waiting period or minimum length of stay. Application for a marriage license must be made by both parties in person at the office of the Ministry of Home Affairs in the capital city Bridgetown. You will require:
Valid passports or birth certificates.
Return tickets.
If either party was divorced, an original Decree Absolute or a certified copy of the Final Judgment.
If either party was previously married and widowed, a certified copy of the Marriage Certificate and Death Certificate in respect of the deceased spouse.
For a Roman Catholic ceremony, your bishop must send the relevant documents to the bishop of Bridgetown.
Where necessary, all documents not in English must be accompanied by a certified translation.
Dominican Republic
You will require:
Register to be married with the Oficialia del Estado Civil (City Clerk). A fee of approximately $455 (USD) is required for registration. If a wedding is being planned through a hotel or resort, the fees may vary. The hotel or resort wedding coordinator can also assist with having paperwork submitted to the government.
The following paperwork must be submitted: Passports, Original copies of birth certificates, Single Status Affidavits that have been translated by an official translator into Spanish at the Dominican Consulate where the document was issued. If divorced, the person(s) will require Divorce Certificate(s) that have been translated by an official Translator into Spanish at the Dominican Consulate where the document was issued.
Contact the resort to reserve a judge. The couple must inform the resort at least one month in advance, with a minimum of 15 days notice, in order to reserve the judge. It is recommended that all paperwork be submitted at least six months before the wedding date. In order to speed up the paperwork process, photocopies of these documents should be sent to the Oficialia del Estado Civil. The originals will be verified upon arrival.
Organize two witnesses to be present during the marriage. Besides the person who will perform the ceremony, two witnesses over the age of 18 must be present during the marriage. If these witnesses are not Dominican Republic residents, they will require passports to verify their identity. If the witnesses are residents, they will require identification cards to verify their identity.
Request Marriage Certificate. After the ceremony, the bride and groom will be given a document that confirms the wedding took place. A Marriage Certificate must be requested from the local Justice of the Peace and will usually be ready a day or two after the ceremony. This document is legal and recognized everywhere in the world.
Grenada
In Grenada the law requires that visitors be resident on the island for a minimum of three (3) days (including weekends and public holidays) before applying for a license. On the third day, the necessary stamp duty and license fees are paid, and an application for a Marriage License is made in person, at the Office of the Prime Minister.Generally the license is ready within two (2) working days. This maybe slightly longer if either partner is divorced, as documents must then be sent to the Ministry of Legal Affairs.
Valid Passports
Birth Certificates
Sworn Affidavit (or letter from a Clergy Man, Lawyer or Registry), attesting that neither party has not been married previously
Decree Absolute, for each divorced party
If widowed, the deceased's Death Certificate
Legal proof if a name was changed by Deed Poll
Legal proof if a name was changed by Deed Poll
All documents must be in English . If the originals are in another language, they must be translated into English and certified.
NO blood or medical tests are required for marriages in Grenada.
Jamaica
Visitors can be married just 24 hours after arriving in Jamaica providing prior application has been made for marriage license.
Proof of citizenship-certified Birth Certificate (which includes father's name).
Parents' written consent if under the age of 18.
Proof of divorce (if applicable) (original Certificate of Divorce)
Certified Death Certificate for widow or widower.
Blood test: none
Persons need to have a heterosexual relationship for marriage as prerequisite.
Mexico
You will need the following:
Each party's "Tourist Card" that is given at the airport upon arrival.
Original and copy of birth certificate for each party.
Original prenuptial medical certificate with test results of syphilis, HIV, and Rh factor (blood type). This certificate should have been issued locally within the last 15 days.
Passports of both parties.
Divorce or death certificate, if either party is divorced or widowed.
Originals and copies of the official identification of two witnesses.
St. Lucia
You have the option of getting married on the same day where you would be required to pay EC$540 (US$200) if you are able to produce all the necessary documents. You can also opt to stay two days and upwards on island where you would be required to pay EC$335 (US $125). A local Solicitor would be able to apply for a license on your behalf. Here is a list of the documents that you need to obtain a marriage license in St Lucia:
Passport
Birth Certificate
Decree Absolute (if one of the parties is divorced)
In the case of a widow/widower a Death Certificate of first spouse is required.
If a name has been changed, a Deed Poll is required.
If one of the parties is under the age of 18, evidence of a consent of parents is required in the form of a sworn affidavit stamped by a Notary Public.
If any required documents are not in English, an authenticated translation must be available.